Remark: ULRead is compatible with all RED ecu's. (NOT with black ECU's)
Download the latest ULRead software – version 2.2 http://ulpower.com/en/accessories/ulread-software
The ULread version is marked in the left corner of the screen, next to the ULP logo
Make sure that you are using the ULRead cable. The ULCheck (our previous diagnostic software) cable is not compatible with ULRead .
The ULCheck cable has 2 pins + 2 holes (lconnector on the left side in the picture) / The ULRead cable has only 1 pin. ( connector on the right side in the picture)
Plug in the ULRead cable into the RS232 connector in de ECU-COCKPIT wiring loom .
Generation 2018 engines will have 2 connectors on their engine –cockpit ECU wiring loom. Older engines will only have 1 connector in your wiring loom .
If you are using an Efis device that is RS232 compatible , this will probably mean that you will have to unplug your efis device from that connector and plug in the ULRead connector.
This is what the RS232/ULRead connector in the ECU-Cockpit wiring loom looks like
Connect the ULRead cable between the Engine and your computer.
You can now power up the ECU. (sequence is important!)
Time to start ULRead now.
If this doesn't work, there might be a problem with a driver that is usually installed as default on a lot of computers but might not be installed on yours.
https://ftdichip.com/drivers/vcp-drivers/
If your cursor of your PC is dancing all over the screen, it is probably due to a bug in some windows installations.
On these installations, Windows recognizes the virtual serial port as an (old school) serial mouse.
When it starts receiving data from the engine, it thinks, this is "mouse input" and the cursor starts to do crazy things.
Can you please try the next steps:
• Connect the USB to serial port to your pc (you don't have to connect the engine to it)
• Open the "device manager" in windows.
• Find your virtual COM port and go to advanced settings
• Deselect Serial Enumerator and press OK

• Restart your pc and try reading the engine with ULread again.
If you are still experiencing connection problems or you would like our help to go through these steps, please contact your local ULP agent
The ULRead program will automatically detect the ECU version (00 or 01)
If you have a 00 ECU, please select the number of cylinders your engine has. Customers with a newer ECU will not see this selection
If ULRead displays an abnormal fuel flow, please select the unscaled fuel flow. (only for ecu versions 00)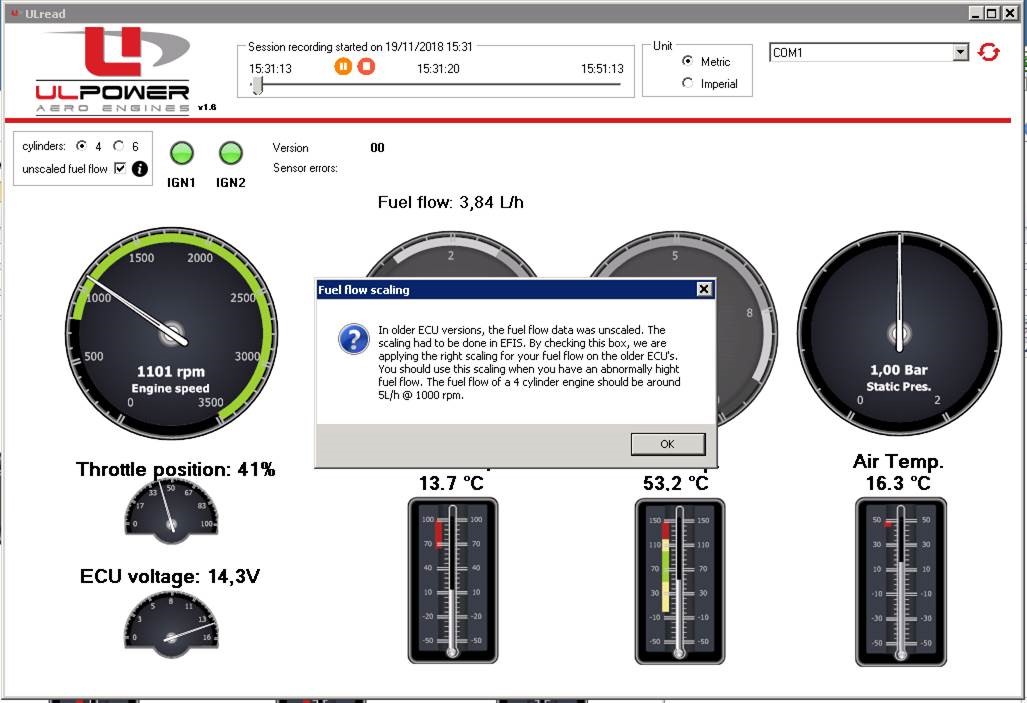 ULRead memorizes your selection. Next time you use the program, there is no need to select everything again.
It is possible to switch between metric or the imperial values.
You are now ready to record a session. (Press Start) . You have to possibility to record a session